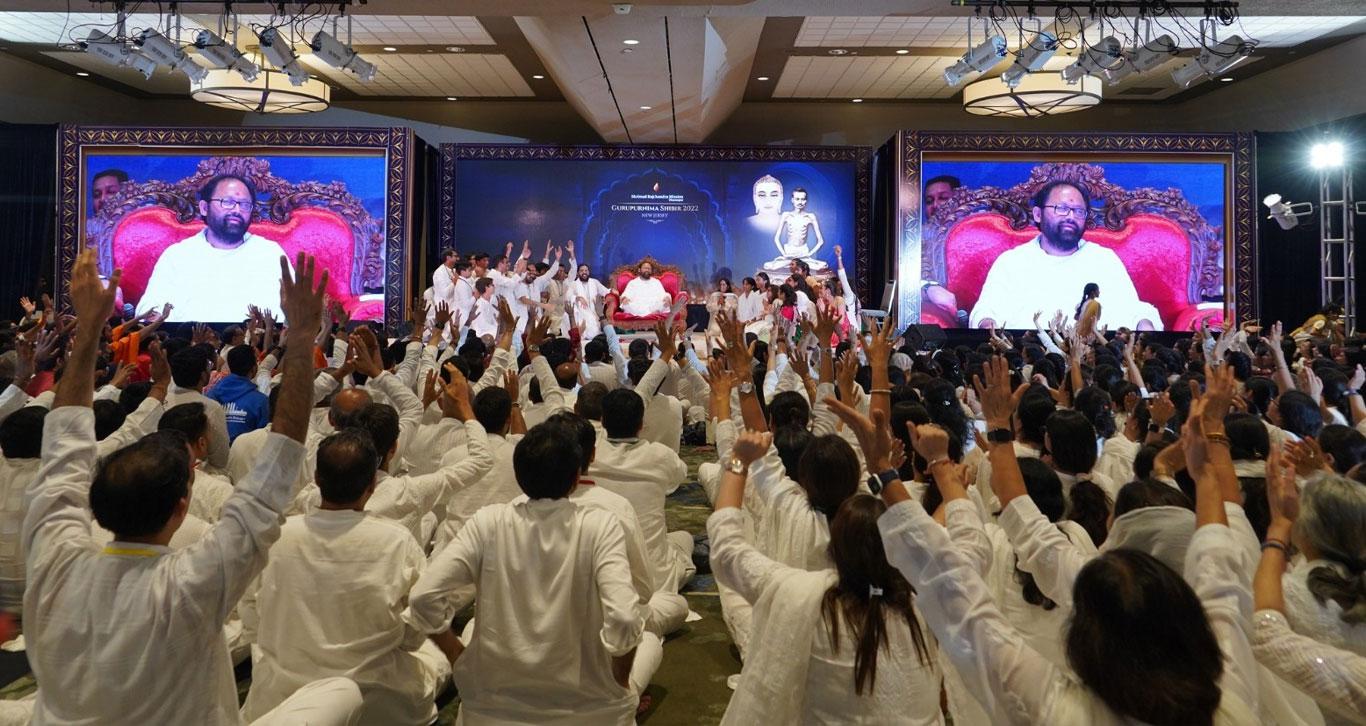 USA-Canada Dharmayatra 2022
---
Pujya Gurudevshri embarked on a five-week dharmayatra to North America, gracing these lands after a span of three long years, due to the COVID-19 pandemic.


Serenity in San Francisco
June 21-23
The Master arrived in San Francisco where devotees had an emotionally touching Father's Day celebrations at the airport premises. Raj-Divya Doshi were His blessed hosts.

Pujya Gurudevshri's two pravachans at the BAPS Swaminarayan Mandir underlined the importance of satsang as a means for cultivating detachment. On the occasion Dr Nilima Ragavan, Clinical Professor of Paediatrics – Neonatal and Developmental Medicine at Stanford University was cordially felicitated for playing a key role in affiliating Shrimad Rajchandra Hospital with Stanford University's Mary Duke Biddle Scholars Program. A special exhibition on the life of Param Krupalu Dev was also organised.

Pujya Gurudevshri's endearing padhramanis filled hearts with deep connection. Mesmerising pratishthas evoked an everlasting love for the divine in the hearts of Nishant-Tanisha Shah, Apurva-Heta Mehta and Pravin-Lina Turakhia.

San Francisco devotees had a memorable retreat with their beloved Master. In a day filled with love and laughter, aspirants expressed their feelings through musicals and skits and learnt life lessons through games. Through meditation and celebration of International Day of Yoga the gathering came closer to themselves. Pujya Gurudevshri also spent special moments with members of San Francisco Youth Group at several interesting excursion spots, igniting their hearts with love for the divine.


Liveliness in Los Angeles
June 24-28
To take seekers towards the unexplored inner realms the Master arrived in Los Angeles, where Mahesh-Usha Wadher were His delighted hosts.

The Master's two pravachans at the Jain Center of Southern California inspired aspirants to awaken from indolence and urged them to constantly strive for the supreme state. Pujya Gurudevshri had a pleasant exchange with President of Claremont School of Theology, Rev. Dr. Kah-Jin Jeffrey Kuan. Brahmakumari Sister Gita Patel was also present for a discourse.

Dancing with joy and jubilation Dr. Rahul-Seema Kale, Sachin-Kruti Shah, Pramod-Kamini Shah, Nikhil-Manisha Varaiya, Rahul-Geeta Bora, Rita Shah, Nishant-Dhara Jhaveri, Jiten-Brinda Shah welcomed the Lord in their hearts through pratishthas. The Master graced several devotees with padhramanis.

The city also witnessed an eventful evening with the Shrimad Rajchandra Love and Care Gala – a celebration of the remarkable humanitarian efforts of Shrimad Rajchandra Love and Care. The Gala commenced with Pujya Gurudevshri lighting the ceremonial lamp with Atmarpit Nemiji and esteemed invitees. Dance and musical dedications added to the celebrative ambience of the event. Stories of transformation of beneficiaries were shared. Atmarpit Nemiji addressed the audience explaining the ethos of Shrimad Rajchandra Love and Care and its benevolent work. The event was attended by several eminent personalities including Founders of Sarva Mangal Family Trust, Shri Manubhai-Smt Rikaben Shah. At the event Pujya Gurudevshri also interacted with Pujya Divyacharan Swami and Pujya Harinivas Swami of BAPS Swaminarayan Sanstha. Several Awards and Proclamations were offered to Pujya Gurudevshri during the event and throughout the dharmayatra.

Seekers of Los Angeles embarked on a two-day retreat at Lake Arrowhead with their Master. Pujya Gurudevshri's empowering Udghosh took the gathering on a journey of self-discovery. Atmarpit Nemiji's session flowed straight from the heart and touched all present. Seekers danced and performed skits for their beloved Master. An ingenious skit expressed how Shri Atmasiddhi Shastra has answers for even the most vexing questions in the current world scenario. Seekers toned their body and inner muscles with yoga and meditation respectively. They also played fun games with important life-lessons. Pujya Gurudevshri blessed several with Panchdiksha.


Piousness in Phoenix
July 1-3
Pujya Gurudevshri arrived in the vibrant desert city of Phoenix to take seekers to the lush and bountiful realms within. Dr Chintan-Chandni Mehta were His elated hosts.
In His stirring discourse at the Jain Center of Greater Phoenix (JCGP), the Master elucidated on the pricelessness of this human birth and how through satsang one realises its true potential.
Pujya Gurudevshri's charming padhramanis were filled with abundant affection. Hearts brimmed with love and overflowed with tears of gratitude as Mehul-Shital Dhruva, Manish-Bhavna Mota, Pradeep-Archana Dugar invited the Lord within through pratishthas. An Udghosh by the Master offered aspirants tips to handle challenges and navigate through life.
Amid great jubilation Pujya Gurudevshri inaugurated Shri Atmasiddhi Bhavan at JCGP and consecrated the sign board with a tilak. Panels engraved with verses of Shri Atmasiddhi Shastra and classrooms for study were also inaugurated by the revered hands of Pujya Gurudevshri. The entire gathering elevated through a pulsating pujan of Shri Atmasiddhi Shastra.
Connecting with their adored Master, Phoenix aspirants went for an unforgettable retreat. Full of merry moments, seekers young and old offered dance dedications, shared their treasured experiences from Raj Katha, imbibed learnings from games, practised yoga and got inspired with a heart-touching session by Atmarpit Nemiji.
Auspiciousness in Austin
July 4
Pujya Gurudevshri arrived in Austin for leading seekers towards inner harmony. The Master's ecstatic hosts were Vipul-Sangita Gopani.

Dwellings of several devotees were sanctified by the Master's padhramanis. Vipul-Sangita Gopani, Siddharth-Moonmoon Jasani, Darshan-Dr Toral Shah, Nirmal-Sonal Khanderia were blessed with a euphoric pratishtha. Pujya Gurudevshri's enriching Udghosh was replete with practical advice that instructed and inspired the gathering.


Devoutness in Dallas
July 5-7
Pujya Gurudevshri was warmly welcomed to Dallas, where Ketan-Rupa Mehta were His joyous hosts.

At the Jain Society of North Texas (JSNT), Pujya Gurudevshri's two pravachans emphasised the importance of adhering to the commands of an Enlightened Master and having faith in His refuge.

Several seekers were blessed with Pujya Gurudevshri's elevating padhramanis, including Dilipbhai Shah, Treasurer of JSNT. Nitin-Bina Hemani and Prabir-Payal Shah cemented the Lord into their hearts with pious pratishthas.

Texas Raj Parivar Gopas and Gopis had a thrilling time with Pujya Gurudevshri during their retreat as they received Him to the Vrindavan of the West. The Master's insightful Udghosh offered valuable tips to the devotees for accomplishing their spiritual goals. Children from Shrimad Rajchandra Divinetouch offered hearty dedications while the elders let their love flow through skits and dances. The aspirants nourished themselves through practice of meditation and yoga.


Calmness in Chicago
July 8-10
Pujya Gurudevshri, the wind beneath seekers' wings, arrived in the windy city of Chicago. Mitesh-Alpa Kamdar were His happy hosts.

In two powerful pravachans at the Jain Society of Metropolitan Chicago (JSMC), the Master underlined the primacy of pursuing spiritual welfare in this human life filled with unease and uncertainty. He also interacted with the Trustees and Executive Committee members of JSMC.

Pujya Gurudevshri blessed the homes of several seekers with gracious padhramanis. Ashish-Moushumi Mehta, Sudhakar-Vinodoni Wagle, Ashwin-Harsha Boghani were blessed with vibrant pratishthas.

The splendid Shrimad Rajchandra Love and Care Gala began with a serene chant for peace, harmony and happiness. Atmarpit Nemiji shared Pujya Gurudevshri's all-encompassing vision behind the establishment of Shrimad Rajchandra Love and Care. The gathering also saw a brilliant performance by Mentalist Sidney Friedman.

Chicago mumukshus had an exquisite evening retreat with the Master. Seekers benefitted from Atmarpit Nemiji's heartfelt session and rejoiced through cultural dedications and games. Pujya Gurudevshri had an informal interaction with the Indianapolis aspirants.


Love in Long Island and New York
July 11-14
To lead seekers to their inner island of eternal joy Pujya Gurudevshri arrived in Long Island, followed by New York. Amit-Ushma Sanghvi and Tejas-Akshi Shah were His elated hosts at Long Island and New York respectively.

The Master's pravachan at BAPS Shri Swaminarayan Mandir was enthusing and encouraging, making seekers gallop on the spiritual path. Pujya Gurudevshri also had a pleasant interface with saints of BAPS Swaminarayan Sanstha.

Pujya Gurudevshri's padhramanis brought inexplicable joy to devotees. Dr. Devan-Nidhi Mehta, Dr Parth-Dr Sohini Kamdar, Parthvi Harde-Malaika Jhaveri-Suhani Doshi and Nimish-Janki Sheth experienced an outpouring of love for the Lord during blissful pratishthas.

New York mumukshus had a moving retreat that left an indelible mark. The Master's Udghosh provided participants with a blueprint for achieving life goals. Yoga and meditation aided development of the participants and they bonded over games. Pujya Gurudevshri venerated the Omniscient Lord at the Jinmandir in Jain Center of America and graced the garland changing ceremony.


Gracious Gurupurnima Shibir in New Jersey
July 15-18
The event for which more than 1,300 devotees from over 300 cities across the world arrived with eager expectation in New Jersey was the Gurupurnima Shibir (GPS) 2022.

Expounding on the message of Patrank-816, Pujya Gurudevshri's four pravachans during the shibir led seekers on the path to 'Go Within to end Misery'. The pravachans touched deep chords within the devotees' beings as they resolved to utilise this life only for the pursuit of union with the Divine.

The evenings were filled with celebrations which included dedications in the form of dances and skits by seekers from various centres. For the finale everyone came together on stage to express gratitude for the Living Master and venerated His engulfing grace.

Eyes moistened and hearts ached for oneness as Pujya Gurudevshri worshipped Param Krupalu Dev during pujan. Devotees too had the blessed opportunity to revere the holy Charan Kamal. They also celebrated the pious occasion with meditation and nrutyabhakti.

A munificent Seva Yajna was a part of the GPS. Sevaks came together to prepare over 1,00,000 food packets for war-affected people in Ukraine.

Dignitaries present on the occasion included Randhir Jaiswal, Consul General of India (New York); Mayor James Barberio, Parsippany-Troy Hills; Mayor Eric Adams, New York City; Dilip Chauhan, Deputy Commissioner in New York City and Alexandra Lakhman, Miss New Jersey.

Dr Ravi Kolli, President of American Association of Physicians of Indian Origin; Dharmendra Sahay, Principal and Board member, ZS Associates; Hemin and Mehul Shah were felicitated for their constant and tremendous support for Shrimad Rajchandra Love and Care's projects. Atmarpit Nemiji spoke on the occasion and a video of its various programmes was screened.

In New Jersey, a devotional pratishtha brought Vishal-Bhavika Doshi, Kushal- Devanshi Shah, Manish-Shilpa Desai, Harshil-Hiral Shah, Maitri Malia Taparia profoundly closer to the Lord.

New Jersey seekers had personal time with the Master through a retreat. The Master motivated seekers to journey within through an awakening Udghosh. The assembly energised through games and yoga. The inauguration of yet another Shrimad Rajchandra Divinetouch Centre took place at Parsippany, making it a total of 252 Centres worldwide.


Prayerful in Philadelphia
July 19-20
Propelling seekers on the highway to liberation, Pujya Gurudevshri arrived in Philadelphia. Mayank-Priti Jain were His privileged hosts.

Navielle-Kinjal Mehta, Harshal-Sweta Zaveri, Sanket-Aarti Shah, Praful-Raksha Ajmera, Shailesh-Shilpa Doshi, Saumil-Uchita Sheth welcomed the Lord in their homes through sublime pratishthas.

Aspirants from Philadelphia, New Jersey, Parsippany and New York had a blissful retreat with the Master. Pujya Gurudevshri's Udghosh propelled seekers ahead on the spiritual path. The celebrations included a heartfelt prayer by children and had dances and skits.


Tranquillity in Toronto
July 21-24
Pujya Gurudevshri arrived in the multicultural city of Toronto, Canada where Pradeep-Prafulla Shanghavi and Mukesh-Harsha Shanghavi were His overjoyed hosts.

Pujya Gurudevshri's two impactful pravachans at the Jain Society of Toronto prompted seekers to contemplate upon the indestructible Self. The Master's Udghosh at the Toronto Spiritual Centre was filled with pivotal lessons to enable devotees to navigate life smoothly.

The Master's padhramanis permeated all with bliss. Vihar-Swapna Shah, Amit-Jethal Gandhi, Malay-Dharmi Matalia experienced unbounded love when Pujya Gurudevshri consecrated the Divine in their hearts with pratishthas.

A day-long retreat offered seekers the opportunity of informal moments with Pujya Gurudevshri. After a connecting bhakti the gathering imbibed wisdom through the Master's uplifting Udghosh. Atmarpit Nemiji shared precious incidents of the Master's never-ending grace. Charming dedications by seekers, yoga and interesting games followed.

Through His peerless presence, pristine pratishthas, profound padhramanis and powerful pravachans Pujya Gurudevshri brought seekers across North America closer to their source of eternal joy.


Awards and Proclamations offered to Pujya Gurudevshri during the USA-Canada Dharmayatra 2022
| Awards and Proclamations | By | Place |
| --- | --- | --- |
| Certificate of Recognition | Sharon Quirk-Silva, Member of California State Assembly on behalf of 65th Assembly District | Los Angeles |
| Certificate of Recognition | City of Artesia | Los Angeles |
| Certificate of Recognition | 50th Assembly District of the State of California | Los Angeles |
| Certificate of Recognition | Shri Rajendrabhai Vora, International Vice President of Jain Social Group International Federation on behalf of Beverly Hills City Council | Los Angeles |
| Global Philanthropist 2022 Award | Dr Dame Munni Irone, Global Peace Leader, Philanthropist and Best-selling Author on behalf of Jewish Society of Beverly Hills | Los Angeles |
| Certificate of Recognition | Dr. Amish Shah, Democratic member of The Arizona House of Representatives | Phoenix |
| Congressional Record recognising Shrimad Rajchandra Love and Care | Congressman Raja Krishnamoorthi, representing the 8th District of Illinois of the U.S. House of Representatives | Chicago |
| Congressional Proclamation acknowledging Shrimad Rajchandra Love and Care | Congressman Danny K. Davis, representing the 7th District of Illinois of the U.S. House of Representatives | Chicago |
| Certificate of Appreciation | Dr Anupama Gotimukula, Past President of American Association of Physicians of Indian Origin | Chicago |
| New York State Assembly Citation | Dr Neeta Jain, District Leader for Queens on behalf Assemblyman David Weprin | New York |
| Proclamation declaring July 15 as Shrimad Rajchandra Love and Care Day in the City of New York | Mayor Eric Adams, City of New York | New York |