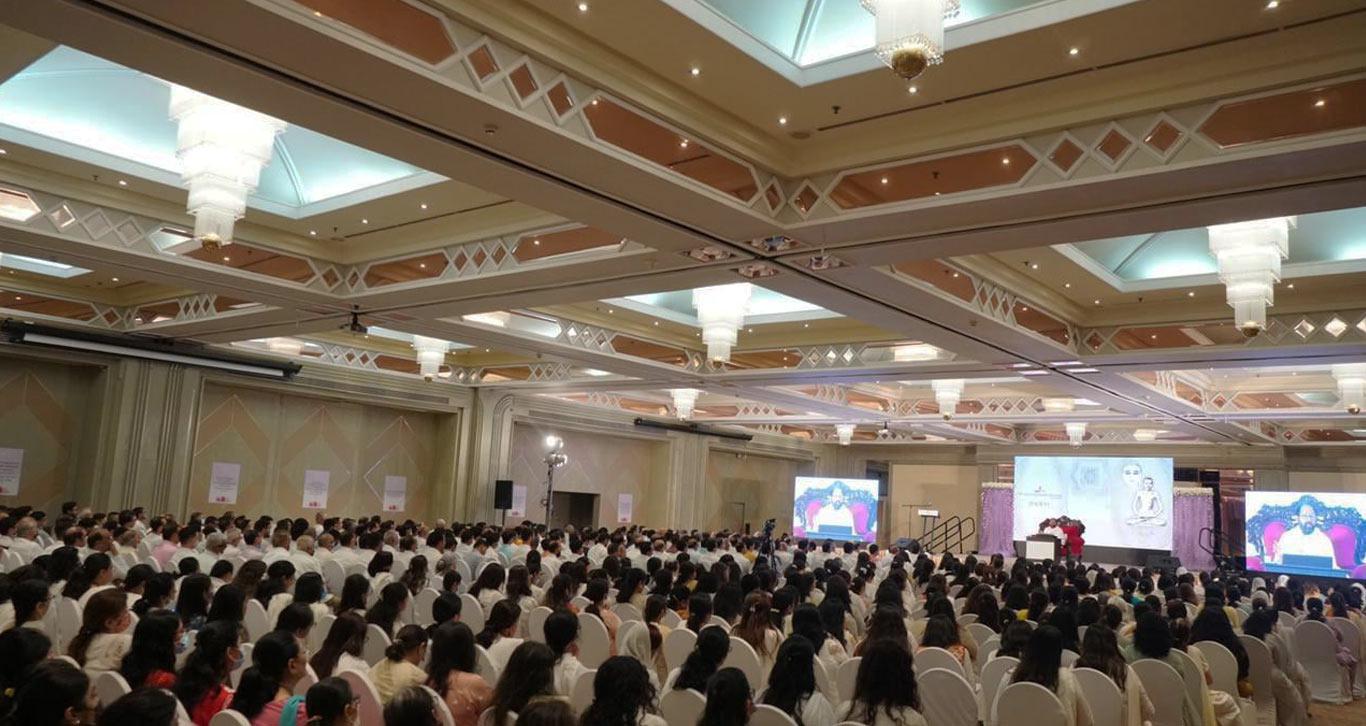 The Dazzling Dubai Dharmayatra 2022
---
Longing hearts found love, seeking eyes found solace, weary existence found vitality and souls regained purpose and passion for inner work, as Pujya Gurudevshri's arrival in Dubai marked a spiritual spring for seekers.

The Master was endearingly welcomed at His host Rameshbhai-Kantaben Jatwani's residence. The youth celebrated Pujya Gurudevshri's arrival in their midst with a vibrant dance. Devotees also performed 'Al Ayyala' – a dance deep rooted in the United Arab Emirates culture which exemplifies the ethos and gallantry of nomadic Arab people and reinforces the values of dignity and honour. Aspirants were uplifted in ecstasy during these special moments with the Master.

Chalking out a roadmap for aspirants to move inwards, Pujya Gurudevshri's two elevating pravachans encouraged them to cultivate resilience in the face of challenges, not be affected by external events and persistently progress on the path shown by Bhagwan Mahavir. Bal Krishen Rathore, President of Century Finance; Adel Hassan Mohammed Ahmed, CEO of Right Choice; Shekharbhai Patni, President of UAE Jain Sangh were felicitated. The Master lovingly interacted with several devotees after the pravachan. Pujya Gurudevshri also guided members of UAE Jain Sangh and Jumeirah Lake Towers (JLT) Jain Sangh.

Pujya Gurudevshri blessed devotees with His peaceful and joyful presence during padhramanis. In a throbbing pratishtha Nishith-Ushma Patel, Rajeev-Milly Palany, Anish-Twinkle Shah, Vaibhav-Jyoti Shah, Romen-Urvashi Shah, Sandeep-Mamta Shah and Umang-Hinal Ghiya cemented the Lord forever in their beings. It was indeed a sight to behold Pujya Gurudevshri and Atmarpit Nemiji dancing to the chants of Param Krupalu Dev's pious name during the culminating moments of the pratishtha!

Seekers of Middle East were blessed with a daylong retreat with their beloved Master at Ajman – the capital of the emirate of Ajman in the UAE and also the fifth-largest city of UAE. The retreat had aspirants flocking from Abu Dhabi, Bahrain, Doha, Dubai, Muscat and Sharjah. Pujya Gurudevshri's Udghosh inspired the gathering to abandon indolence and make use of this precious human birth for spiritual upliftment. The Master also had an informal interaction with members of Dubai Study Group and Muscat Raj Parivar.

Opening the floodgates of elevation, devotees revelled in the Master's presence amid jubilant celebrations. Members of Dubai Study Group presented a beautiful musical, while members of Muscat Raj Parivar performed a skit highlighting the importance of experimenting for experiencing an inner transformation. Dubai Raj Parivar depicted their experiences of being drenched in grace by the magnificent Master.

Aspirants were completely immersed in the Master's divine love during the holi celebrations. Pujya Gurudevshri affectionately venerated Param Krupalu Dev's pratimaji and Charan Kamal with pujan. The Master then coloured the seekers in hues of devotion. They joyfully offered colours at the Lotus Feet of the Master, while continually experiencing the sublime and selfless love of Pujya Gurudevshri being showered upon themselves.

While in Dubai, Pujya Gurudevshri visited Expo 2020 – a world fair with pavilions of over 190 participating countries, each with their own custom-built pavilion showcasing their cultures, innovations and aims for the future.

Indeed, Pujya Gurudevshri's compassion flows incessantly – during the pandemic it manifested in the form of virtual discourses, bhakti, meditations; and with the global conditions easing out, He took no time in arriving at our doorstep to connect us deeply with the Divine through a real experience. We bow in utmost gratitude at the Lotus Feet of Param Krupalu Dev and Pujya Gurudevshri for constantly inundating us with Their transforming grace.