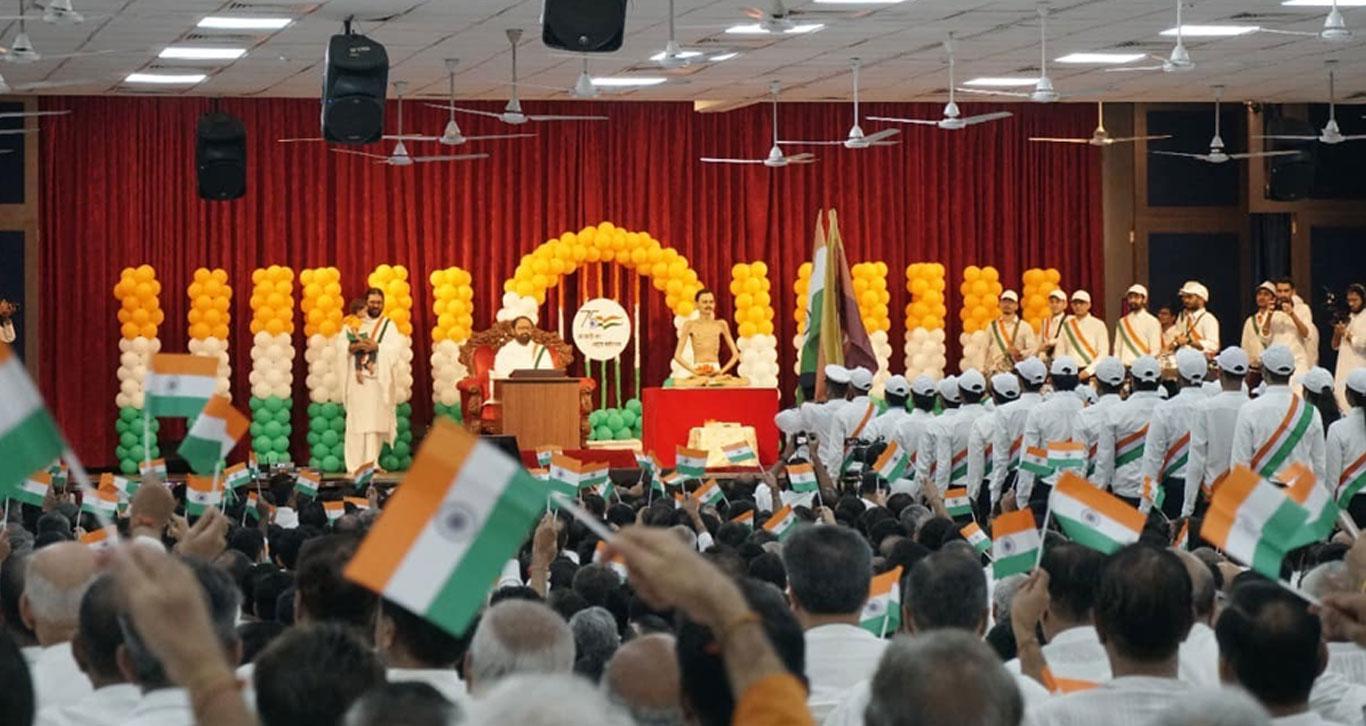 Celebrating 75 Years of India's Independence
---
Exuding a patriotic fervour, seekers at Shrimad Rajchandra Ashram, Dharampur joined millions across the globe in celebrating 75 magnificent years of Indian Independence. Aligning with Hon'ble Prime Minister, Shri Narendrabhai Modi's campaign – 'Har Ghar Tiranga', every house in the Ashram was adorned with the national flag during the three-day festivity from 13th to 15th August.
The first day of celebrations honoured the Eastern and Western parts of India. The virtuous saints, vibrant cultures, valiant heroes and valued features of various states were applauded. Celebrating the uniqueness of North and South India, the second day extolled spiritual leaders, freedom fighters and visionaries thereof and highlighted that a common thread binds the whole country amidst the outward diversity.
On day three, seekers streamed into the Yajnasthal with excitement for the 15th August celebrations. Pujya Gurudevshri arrived on stage and venerated Param Krupalu Dev with orange, white and green flowers. A contingent of young boys and girls marched gallantly carrying the Tricolour. A dedication honoured nation builders – politicians, scientists, industrialists, sportspersons, musicians and others who have worked tirelessly to enhance the global credibility of the nation in varied spheres. Dance performances by the youth energised the entire audience. Hearts swelled with honour and happiness as Pujya Gurudevshri along with the Steering Committee Members unfurled the national flag. The assembly joined in singing the national anthem with pride.
We pray at the Lotus Feet of the Master that just as we celebrate the nation's Independence may we one day commemorate our freedom from the shackles of delusion.