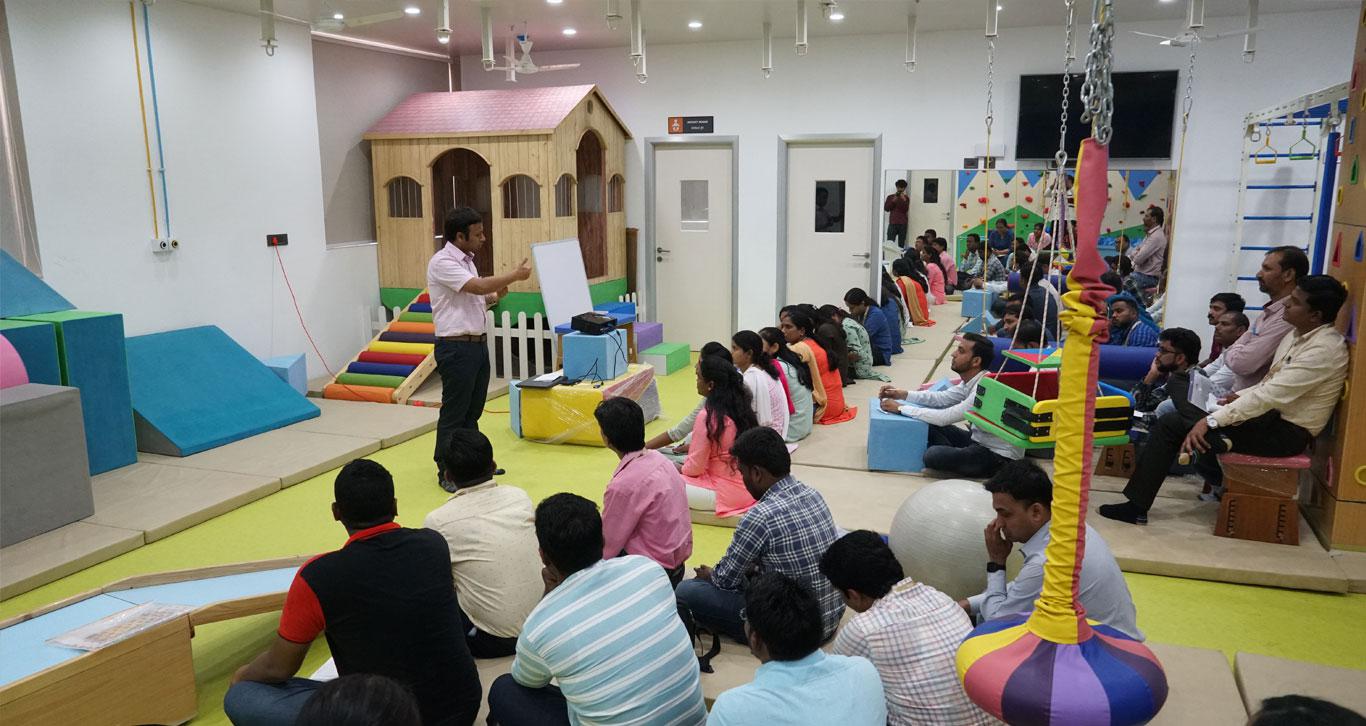 A State-level Training on Early Intervention
---
It is Pujya Gurudevshri's benevolent vision that any best practices developed and implemented by the Mission and its institutions are shared for larger good. Keeping this in mind, Shrimad Rajchandra Love and Care has been continuously striving to upgrade its standards of service and is also sharing it with the world at large.

A week-long training was organised by Shrimad Rajchandra Hospital and Research Centre for the staff of the District Early Intervention Centres (DEIC) of government hospitals of Maharashtra. This was the third such batch sent by the Government of Maharashtra to obtain training. There were more than 150 participants including paediatricians, medical officers, physiotherapists, optometrists, audiologists and speech therapists, psychologists, medical social workers, special educators and DEIC managers. The attendees hailed from across the length and breadth of Maharashtra, from places such as Bhandara, Dhule, Gadchiroli, Gondia, Kolhapur, Nashik, Pune, Sangli, Solapur, Wai, Yavatmal etc.

The aim of the training was to improve medical care of at-risk children, preventing or limiting disability, and influencing the cognition curve of the entire community. Super-specialty trainers provided training to the paediatric teams. This training helped them to understand and grasp their subject matter well, made them confident to handle complex cases and enhanced their enthusiasm to work in DEICs.

The participants got the blessed opportunity to stay in the pious environs of the Ashram. Atmarpit Maulikji – Secretary, Shrimad Rajchandra Mission Dharampur addressed the group. A mindful yoga session and fun-filled, motivational games added to the overall wellbeing of the participants.

Through this initiative, the immense compassion, love and care of Pujya Gurudevshri will reach thousands of newborn babies and children of Maharashtra.