The Life of Shrimad Rajchandraji
A Divine Journey
An embodiment of divinity, an ideal of human spirit, Shrimad Rajchandraji's existence is the convergence of wisdom, devotion and detachment. His life was an intense and incessant pursuit of spirituality.
Regarded as the torchbearer of Jainism for the modern era, Shrimad Rajchandraji was a revolutionary who did not blindly accept the doctrines inherited by tradition, a practitioner who lived amidst the world yet untouched by it, and an experimenter who had awakened to the truth of His being.
Unbound by time, His contribution remains invaluable and exemplary. What begins as a journey into His life, may end up as a journey into your own.
"I have supreme detachment towards this world, even if it were to turn into gold, for me it is like a blade of grass."
~ Shrimad Rajchandraji ~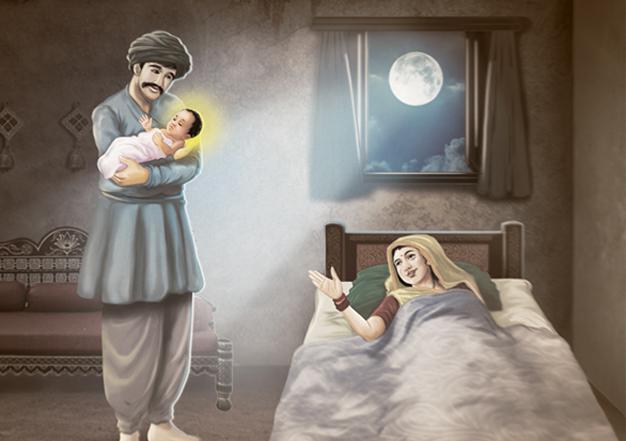 Janma
Dawn of a New Era
1867
On the radiant full moon night of Kartik Purnima, V.S. 1924 (9 November, 1867), the port town of Vavania, Gujarat, was blessed with the arrival of Raichand. Little did His parents, Devba and Ravjibhai Mehta, know that the infant they held in their hands, would hold the hands of multitude of seekers, guiding them to eternal liberation.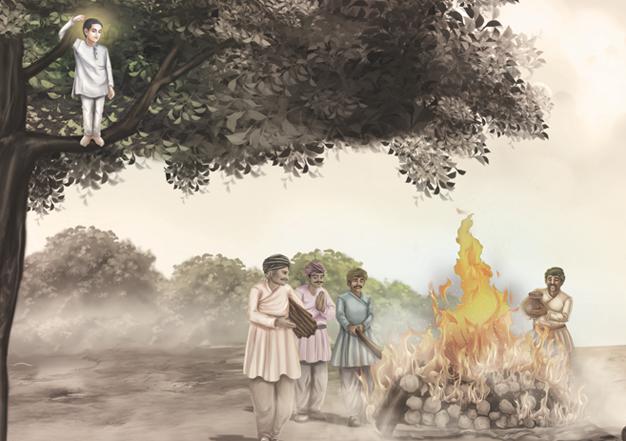 Jatismaranjnan
The Awakening
1875
At the age of seven, young Raichand first encountered death through the sudden passing of an acquaintance. Curious to know the meaning of death, He climbed a babul tree near the crematorium. Witnessing the body burning on the funeral pyre, He slipped into an intense churning so profound that it led to the attainment of Jatismaranjnan – a recollection of hundreds of past lives.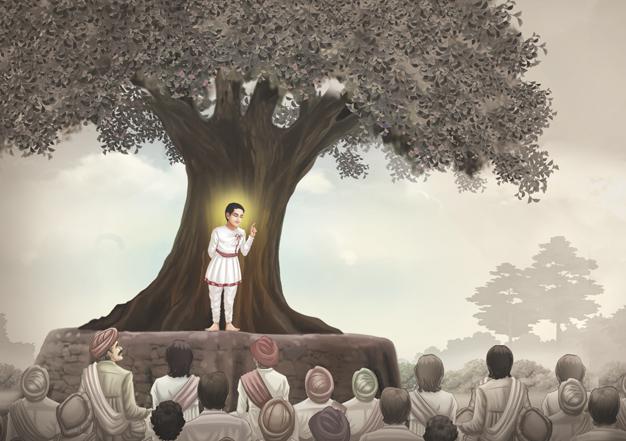 Bal Yogi
A Child Scholar
1875 – 1884
Raichand began school and completed seven years of academic study in just two years. Besides His remarkable intelligence, He was endowed with creative spontaneity, poetic, and oratory prowess. He was fondly known as 'Kavi' – the child scholar-poet. Between 13 to 16 years, He delved into His quest for the ultimate truth through an immersive study of the scriptures and mastering the six principle Indian philosophies.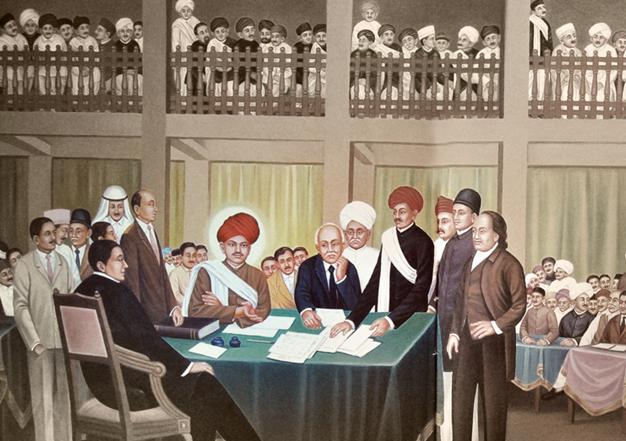 Shatavdhan
A Small Glimpse into Tremendous Powers
1887
Avdhanshakti is a special power of retention, in which one can remember and perform many tasks simultaneously, without error. Where an ordinary person finds it difficult to perform even five tasks at a time, Shrimadji gave a public demonstration of shatavdhan – one hundred tasks simultaneously – at Sir Framji Cawasji Institute on 22 January, 1887 in Mumbai, at age nineteen.
But spiritual progress was His only goal, and nothing could distract Him. He declined an opportunity to showcase His incredible powers in Europe and resolved not to perform ever again.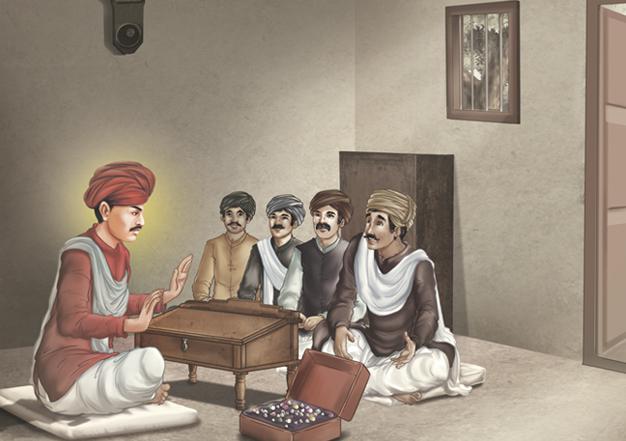 Jal Kamal
Detachment in Worldly Life
1888 – 1889
Harbouring an intense desire for complete renunciation, Shrimadji's inward journey was soaring high. However, His parents did not grant Him the permission to sever all worldly ties and adopt the ascetic life. In a twist of fate, He tied the nuptial knot with Jhabakbai in 1888 in Morbi.
Accepting the outcome of His past karma, He ventured into the jewellery business in Mumbai. A fine confluence of wisdom and morality, He left a lasting impression on anyone who met Him. He spent nearly a decade as a householder. Nonetheless, dharma reflected in His every activity – His heart found no other solace than in the self.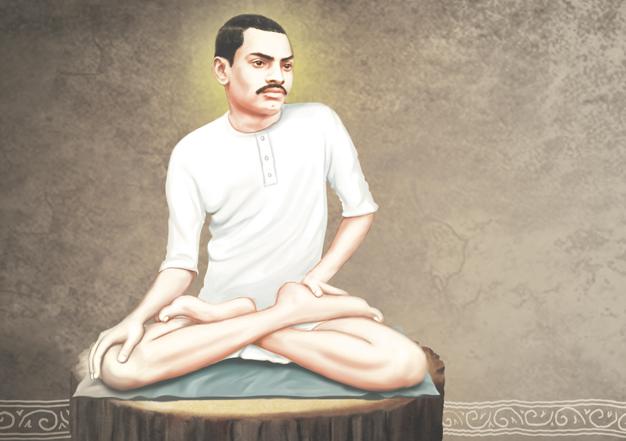 Samyak Darshan
The Spiritual Enlightenment
1890
"Day and night, reflection upon the supreme reality alone prevails, that alone is the food, that alone is the sleep, that alone is the bed, that alone is the dream, that alone is the fear, that alone is the pleasure, that alone is the possession, that alone is the walking, that alone is the sitting. What more do I say? Bones, flesh and their marrow are only coloured in the colour of that alone."
The year was 1890. His age was 23. Shrimadji's pursuit of the ultimate truth bore fruit. He attained shuddh samyak darshan (self-realisation) – the gateway to liberation. Amid the bustling demands of worldly affairs, He revelled in the untainted bliss of the self.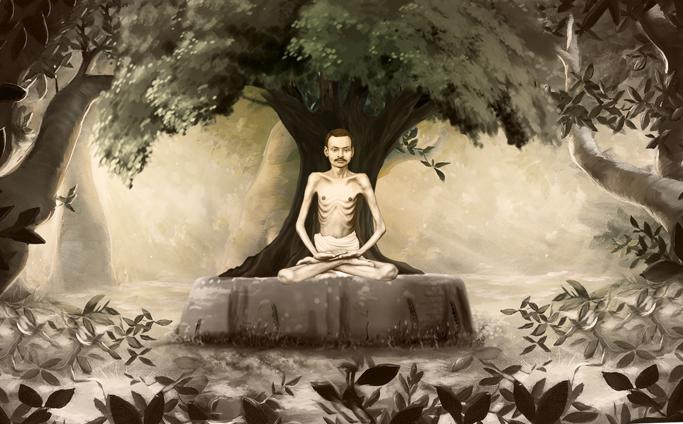 Nivrutti Kaal
Solitary Retreats
1896 – 1900
Shrimadji spent time in the seclusion and wilderness of Gujarat for months on end. The hills of Idar and the forests of Kavitha, Vaso, Uttarsanda, and Kheda, were witness to His spiritual advancement. He remained absorbed in the self while observing the conduct of a monk.
On Aso Vad Ekam in 1896, at the fall of dusk in Nadiad, He composed the glorious 142 verses of Shri Atmasiddhi Shastra – His magnum opus and the essence of all scriptures.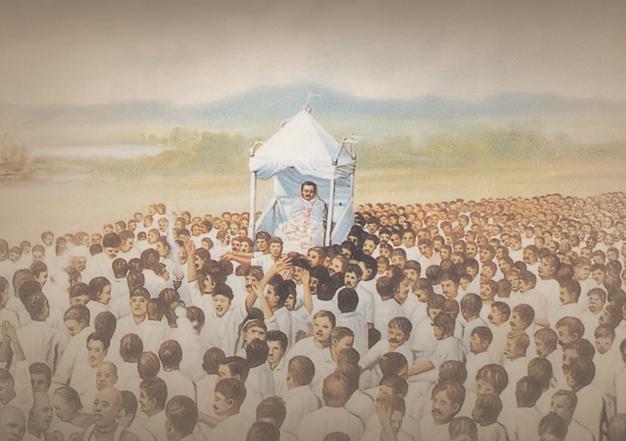 Deh Vilay
Shedding the mortal coil
1901
Once while handing his coat to someone, Shrimadji had said "As I give this coat to you, I will leave this body and depart. For the One who has realized that the soul is separate from the body, for Him, leaving the body is like removing a coat."
At the threshold of complete renunciation, Shrimadji contracted a severe illness from which He never recovered. Abiding as ever in the blissful self, He left His mortal body on Chaitra Vad 5, V.S. 1957 (9 April, 1901).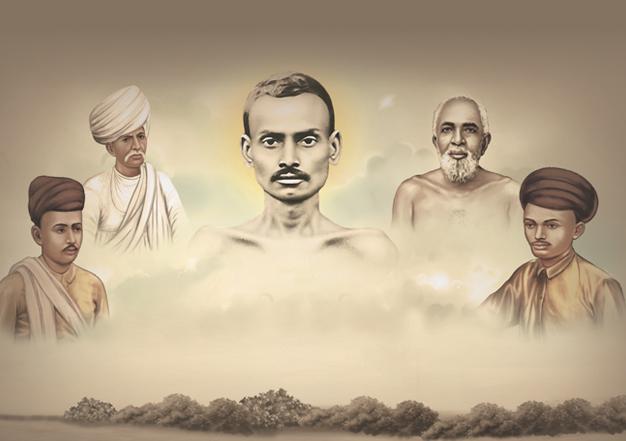 Bhakta Ratna
Four Foremost Devotees
Igniting the flame of enlightenment, Shrimadji inspired monks, scholars and householders, young and old alike. While each aspirant benefited as per their own receptivity and worthiness, four ardent devotees attained a high spiritual state under His refuge.
Pujyashri Juthabhai, Pujyashri Ambalalbhai, Pujyashri Saubhagyabhai, and Pujyashri Lalluji Muni, led and inspired many others.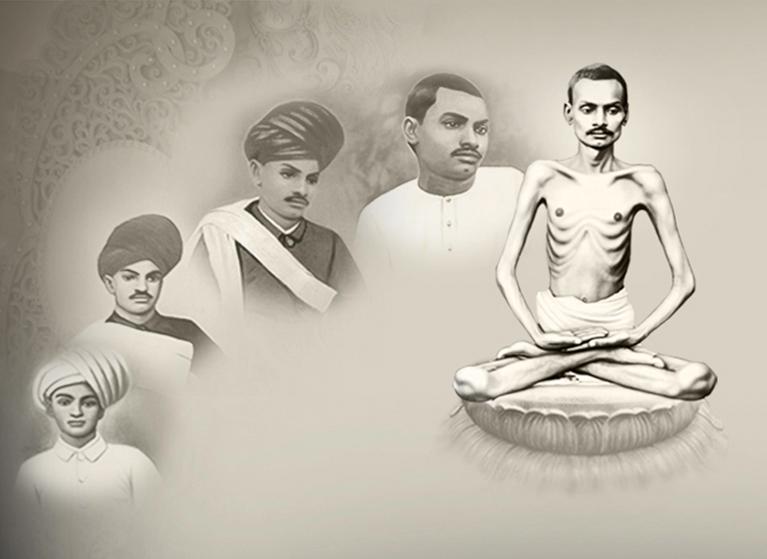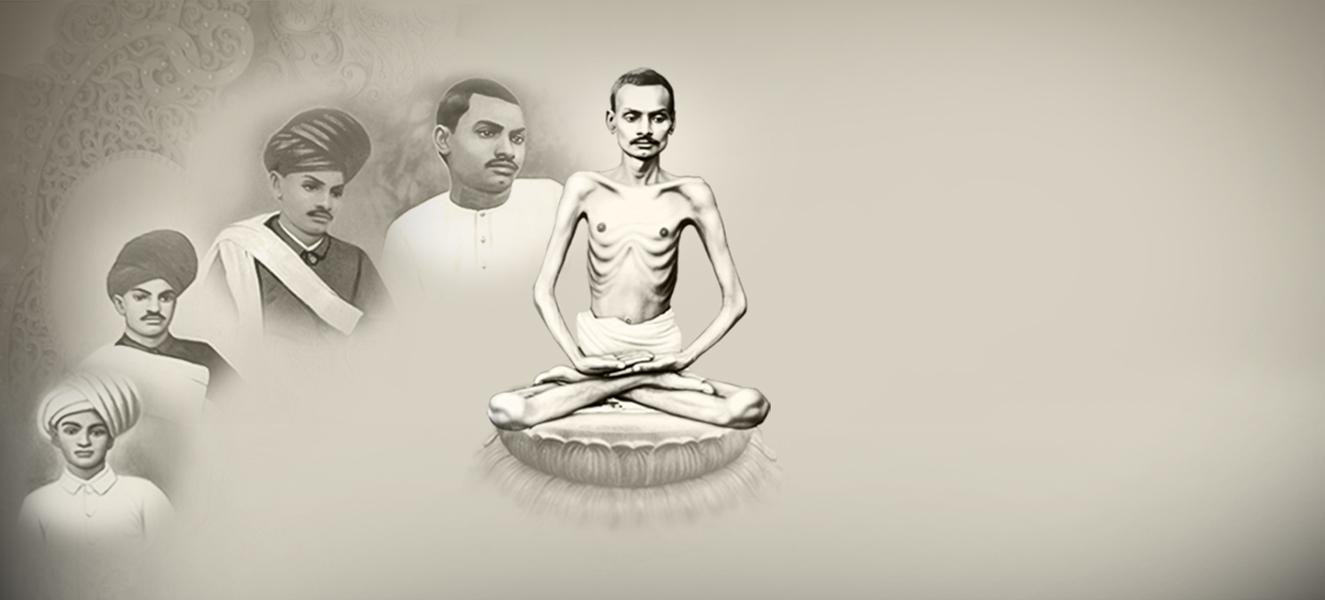 The Legacy Lives On
Shrimad Rajchandraji's journey of 33 years and five months was brief, but impactful – one whose reverberations are felt even today. Over 150 years hence, our world continues to illuminate in the radiance of His knowledge and compassion.
Watch Now