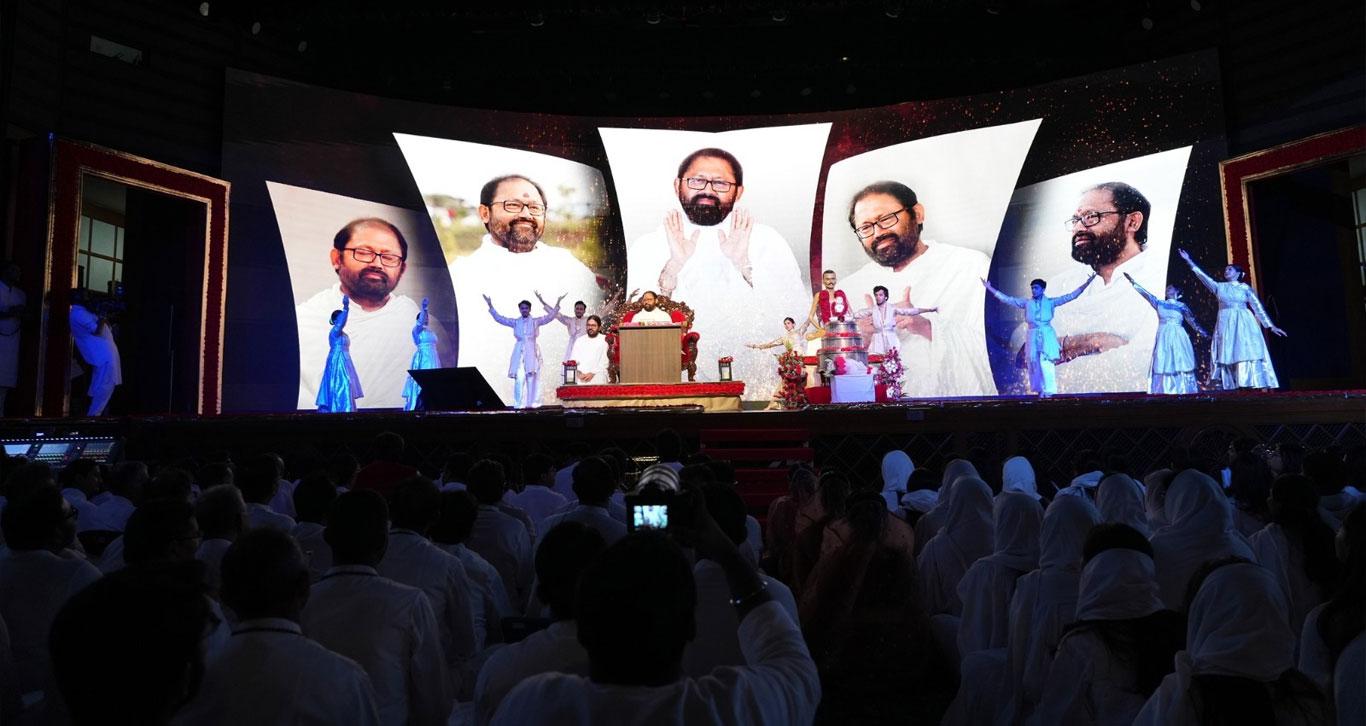 Pujya Gurudevshri's 56th Birth Anniversary Celebrations
---
The Yogi Sabhagruh in Mumbai was packed with devotees on the evening of September 26, the hallowed day of Pujya Gurudevshri's advent.


Sparkling Celebrations
Curtains parted and the venue reverberated with loud cheers as the gathering got a first glimpse of the Master. In the background a large LED screen was adorned with His divine chitrapats, and the logo '56 Years of Divinity'. The hues of red and gold lent the ambience warmth and shine. Young devotees across all floors welcomed the Master with a spirited dance and the Bhakti team sang His glory through the medium of Sanskrit verses.

On behalf of all devotees, President of Shrimad Rajchandra Mission Dharampur – Vanprastha Abhay Jasani; President of Shrimad Rajchandra Foundation – Vanprastha Kumud Mehta and President of Shrimad Rajchandra Educational Trust – Premarpit Mahendra Parekh offered wishes in the form of a garland, shawl and card to Pujya Gurudevshri. A giant-sized bouquet was brought in from the crowd and offered to the Master.

A deeply connecting skit, 'Sada Sukhdayakam', illustrated how by bestowing gifts of Satsang, Sharan, Samagam, Saiyam and Seva, Pujya Gurudevshri has been an ever-flowing fount of joy for seekers.


Special Launches and Initiatives
Propelling the inner quest of seekers, a book named 'Sadguru Ignites' was launched by Chairman and Managing Director of Motilal Oswal Financial Services Ltd – Shri Motilal Oswal, and his wife. Shri Motilal also offered a token of his love and respect to the Master.

On this special occasion Shrimad Rajchandra Hospital and Research Centre launched a holistic and multi-level Anaemia Mitigation Project to eliminate nutritional deficiency anaemia from the Valsad district.

Shrimad Rajchandra Love and Care announced that they would organise Mega Camps in various parts of the country which would cover varied medical disciplines including general medicine, surgery and paediatrics. They would also have viklang camps, cancer awareness, yoga, financial literacy and other initiatives as part of these Mega Camps. Commemorating the pious occasion, Shrimad Rajchandra Love and Care rescued 560 animals from being taken to slaughterhouses.


Soul-stirring Pravachan
The Master's energising pravachan on Shrimad Rajchandra Vachanamrut Patrank – 784 urged the gathering to break through the chains of metaphysical slumber. Pujya Gurudevshri explained that ensnared in flaws and fantasy, we the ignorant ones live an impulsive life. It is only an Enlightened One who shakes us and wakes us out of the dream state.

The Master's pure and persisting love draws the devotee unceasingly to Him and withdraws him from the world. Concluding the pravachan, He proclaimed that renunciation is a relation of deep and pure love with the Lord, where a devotee invites the Divine and awaits His manifestation within.


Sacred Atmarpit Diksha Ceremony
Responding to Pujya Gurudevshri's clarion call, seven young souls – Jivanarpit Abhishek Brahmbhatt, Jivanarpit Nirav Kamdar, Jivanarpit Heli Shah, Jivanarpit Devanshi Parekh, Jivanarpit Manali Parekh, Yuvarpit Disha Shah and Yuvarpit Shivani Shah stepped forward to solemnise their eternal bond with the Lord by embracing Atmarpit diksha.

Hearts overflowing with devotion the Atmarpits-to-be venerated Tirthankar Bhagwan, Param Krupalu Dev and Pujya Gurudevshri. The audience watched with moist eyes as the Atmarpit Diksha ceremony took place. On behalf of the new Atmarpits, Atmarpit Devanshiben shared heartfelt feelings. Parents of the new Atmarpits were endearingly felicitated. Adding to the sanctity of the event, parents of Atmarpit Heliben, Atmarpit Dishaben and Atmarpit Shivaniben embraced Ajivan Brahmacharya Vrat.

On the momentous occasion Atmarpit Harshadbhai, Atmarpit Shraddhaben and Atmarpit Poojaben were blessed with higher vows and the title of 'ji' as a suffix to their name.

The celebrations concluded with a mesmerising Aarti. Truly, we bow down to Pujya Gurudevshri who is a living example of how the birth of an Enlightened One is the birth of a devotee's spiritual welfare.