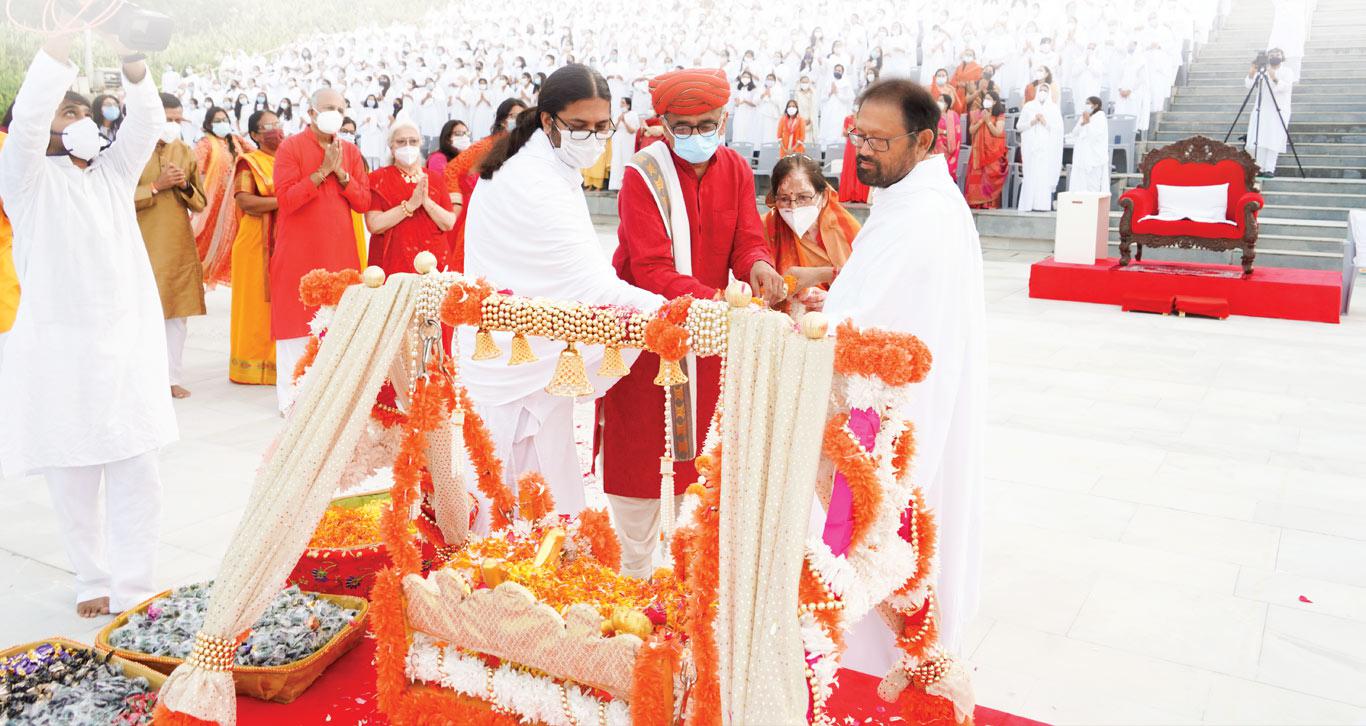 Kartik Purnima 2021
---
The pious day of Kartik Purnima occupies a special place in the hearts of all Raj bhakts. This year too, the International Headquarters of Shrimad Rajchandra Mission Dharampur saw the celebration of this pious occasion with a three-day mahotsav.

The serenely spiritual dawn of Kartik Purnima witnessed the grand Mahamastak Abhishek of the world's tallest pratimaji of Param Krupalu Dev Shrimad Rajchandraji. Numerous devotees got the opportunity to perform Abhishek of their Lord along with Pujya Gurudevshri.

The morning commenced with an eye-opening pravachan by Pujya Gurudevshri on the importance of dissolving one's ego. In the evening, the Mission's bhakti team put together a series of devotional songs and narration, bringing to life various inanimate objects graced by Param Krupalu Dev, illustrating how every particle in the presence of an Enlightened Master is blessed with His divine touch.

On Day 2 of the mahotsav, Pujya Gurudevshri's benevolence flowed through a pravachan on Visarjan Pachhi Sarjan No Mahima, the creation of Godliness. This was followed by bhakti with Shri Nileshbhai Ranawat, who helped introduce the blessed mumukshus selected to play key roles during Bhagwan Mahavir's Kalyanak celebrations in Shri Dharampur Tirth Anjanshalaka-Pratishtha Ashtahnika Mahotsav.

Afterwards, a religious boli event was organised as mumukshus poured in their devotion and bid on various laabh opportunities during the Pratishtha Mahotsav.

Day three of the mahotsav, devotees saw how melting the ego gives way to open the door to divinity. The gold and silver they offered was melted in the Amphi to create the pratimajis of Lord Mahavir and Param Krupalu Dev. These five-metal pratimajis are the ones upon which all the major rituals of the Mahotsav will be performed.

This special event was followed by the Patrika Aalekhan. Led by Pujya Gurudevshri, 150+ blessed devotees inked the names of Arihant Bhagwan and Param Krupalu Dev on the Amantran Patrikas, as if inviting them not only for the Pratishtha Mahotsav, but also to reside forever in the hearts of us all; along with the Patrikas for Acharya Bhagwant and other revered sadhus and sadhvis.

Thereafter, the Amantran Patrikas were digitally sent out to all devotees, thus inviting one and all to come and be a part of this once-in-a-lifetime opportunity.