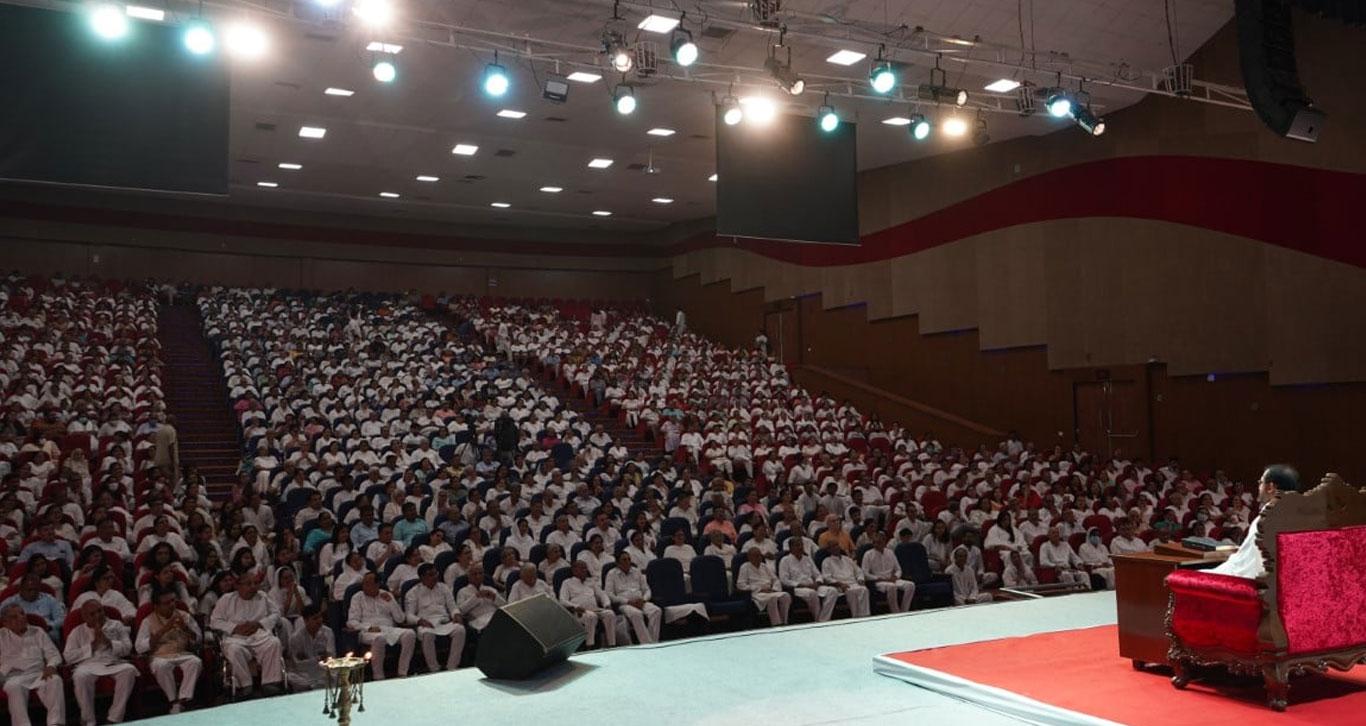 Gujarat Dharmayatra 2022
---
After the inaugural Satsang Shibir on Kathopanishad, Pujya Gurudevshri traversed across Gujarat from April 20 to 28 for uplifting numerous souls.


Radiant Rajkot
Pujya Gurudevshri arrived at the vibrant city of paintings, Rajkot, and was lovingly welcomed by His overjoyed hosts, Harshadbhai-Parinaben Adani.

Illuminating the spiritual path of seekers, Pujya Gurudevshri's discourse at Shrimad Rajchandra Gyan Mandir inspired aspirants to maintain their focus and to remain steadfast on the path to reach the final goal. Pujya Gurudevshri had a pleasant interaction with saints from various organisations dedicated to Param Krupalu Dev. The pravachan was also attended by dignitaries such as Karann Shah, Executive Editor of Sanj Samachar; Gujarat's leading afternoon-evening daily newspaper.

The hallowed day of Chaitra Vad Pancham had witnessed Param Krupalu Dev's exalted inner state when He left the mortal coil. Pujya Gurudevshri spent moments in silence at Shrimad Rajchandra Samadhi Bhavan on this day.

Pujya Gurudevshri's effortless affection filled all with utmost joy during His padhramanis to houses of several seekers, including renowned folk artist Shri Sairambhai-Zankhanaben Dave, well-known brain and spine surgeon Dr Kant-Jigna Jogani, Dr Ashwin (Urologist)-Dr Mamta Limbasia (Obstetrician and Gynaecologist) of Spandan Hospital and Director of Pan Health & Hygiene Private Limited Chirag-Renil Pan.

The pratishthas at Harshadbhai-Parinaben Adani's place and at Sairambhai Dave's Nachiketa Schooling System were deeply devotional. Pratik-Arpita Mehta, Sarad-Meera Vasa, Amit-Neha Doshi were also blessed to have the Lord consecrated in their home and hearts through pratishthas.

Rajkot mumukshus were blessed with a lively outing with the Master. Pujya Gurudevshri's captivating Udghosh urged devotees to remain connected to the Divine. Encapsulating points from all His recent pravachans the skit performed by the group was much appreciated by the Master. Pujya Gurudevshri, Atmarpit Nemiji, and all aspirants danced to connecting chants of Param Krupalu Dev's holy name. The Master interacted with members of the Study Group and Youth Group, and with mumukshus from Botad, Jamnagar, Surendranagar, and Wankaner Centres.


Alluring Ahmedabad
Ahmedabad seekers attuned their beings to the Divine, as they adoringly welcomed Pujya Gurudevshri. The blessed hosts were Dineshbhai-Renukaben Shah and Yugeshbhai-Mitaben Shah.

Pujya Gurudevshri's three pravachans in Ahmedabad paved the way for aspirants to develop emotional fitness and strive for spiritual growth. Prior to the first pravachan, Pujya Gurudevshri lit the ceremonial lamp along with esteemed dignitaries which included Adarniya Padmashri Dr Kumarpalbhai Desai; President of JITO Ahmedabad Chapter, Chetanbhai Shah; trustees of Shrimad Rajchandra Nijabhyas Mandap & Vihar Bhavan Trust (Ahmedabad-Vadva-Idar) Shri Arvindbhai Shah (President), Shri Yugeshbhai Shah (Treasurer), Shri Mayurbhai Shah (Trustee), Shri Dineshbhai Shah (Trustee) and Shri Devendrabhai Shah (Trustee). The trustees also felicitated Pujya Gurudevshri with a token of appreciation for the recently concluded milestone event of the Pratishtha Mahotsav at Shri Dharampur Tirth.

Commemorating the 125th anniversary of Shri Atmasiddhi Shastra, examinations on the sacred text were organised by Shrimad Rajchandra Nijabhyas Mandap & Vihar Bhavan Trust (Ahmedabad-Vadva-Idar). The top winners of Shree Atmasiddhi Pratiyogita were awarded prizes from the revered hands of Pujya Gurudevshri. Representing the Mission in this competition were Sarvarpit Vishal Shah, Atmarpit Shreyaben (Jasani) and Trustee of Shrimad Rajchandra Mission Dharampur (USA), Vanprastha Piyush Shah who stood 1st, 4th and, 5th respectively.

Imbuing every aspirant with love for the Lord, the Master's padhramanis included a visit to the residence of former Chief Minister of Gujarat, Shri Vijaybhai Rupani. Kushal-Richa Shah, Tushar-Darshna Vora, Niranjan-Raksha Bhavsar, Rohan-Dwiti Shroff, and Prashant-Palak Modi experienced an avalanche of devotion during a mesmeric pratishtha held at the Raj Farms.

Pujya Gurudevshri visited Shrimad Rajchandra Adhyatmik Sadhana Kendra, Koba. He venerated Param Krupalu Dev and paid His respects at the Kutir and Samadhi Sthal of Pujyashri Atmanandji. The Master also blessed the homes of several devotees there with His pious presence.

Shrimad Rajchandra Divinetouch children and sevaks beamed with delight as Pujya Gurudevshri inaugurated a new premises in the city. The Master felicitated Yugeshbhai Shah for generously offering the place with a marvellous set up for conducting the classes.

Ahmedabad mumukshus had a memorable outing with their dearest Master. Pujya Gurudevshri's Udghosh blessed them with right knowledge and inspiration to navigate life in this ever-changing world. In a day filled with His peaceful presence, seekers offered performances, danced, laughed, and shed tears of gratitude for Him. The Master also spent memorable moments with the Ahmedabad Youth Group.


Vibrant Vadodara
Abundantly sharing His ever-flowing compassion with seekers, Pujya Gurudevshri arrived in Vadodara, the cultural capital of Gujarat. Kiritbhai Ajmera was His elated host.

The Master's two pravachans infused aspirants with purpose and passion for pursuing the inner path and making the most of this precious human birth. Pujya Gurudevshri also interacted with seekers, gently steering their lives towards a Higher Goal.

The Master's padhramanis carried comfort and connection for longing hearts. In a beautiful pratishtha, Amit-Sonal Shah and Nimesh-Madhvi Shah welcomed the Divine into their beings and dwellings.

Relishing every second in Pujya Gurudevshri's divine presence, Vadodara seekers made the most of their outing with Him. Members of the Study and Youth groups offered dedications. The gathering imbibed wisdom through His Udghosh. The Master informally interacted with members of the Study group and Satsang group.

The summer of 2022 was truly one to remember for the devotees of Gujarat as the epitome of love, Pujya Gurudevshri, drenched their beings with cool showers of love, grace, and compassion. Infinite salutations at the Lotus Feet of our most selfless and compassionate Living Enlightened Master.